Image Upload for bbPress Pro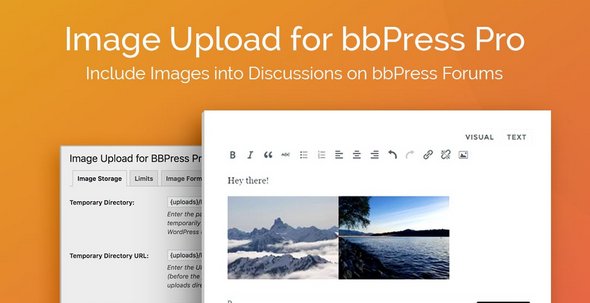 Image Upload for bbPress Pro features
Includes a responsive drag-and-drop image uploader with support for inserting multiple images at once.
Generate and insert separate thumbnail versions of uploaded images while retaining a larger version for use with the built-in lightbox.
Allow users to upload animated GIFs while preserving animation.
Change the directory where uploaded images are stored.
Limit which user roles are permitted to upload images.
Limit the number of uploaded images allowed per topic or reply.
Automatically downsize images to fit specified maximum dimensions.
Convert all uploaded images to the same image format, if desired.
Set PNG and JPEG compression levels so images take up less disk space.
Allow users to view enlarged images in a lightbox by clicking on them within the post.
View total image count and file size statistics.